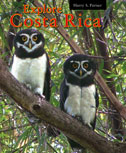 (Fifth Edition)
US$22.95
ISBN 978-1-893643-55- 0
Order Explore Costa Rica from a bookstore near you:
Buy this book locally:

Explore Costa Rica is for sale in Costa Rica at all Libreria Internacional stores.
Travel with award-winning travel guide author Harry S. Pariser around Costa Rica and experience its wonders! Dive and snorkel off the coast of the remote Osa Peninsula. Experience the Caribbean coast with its rich Jamaican culture. Visit the small hotels of the Pacific Coast and the Nicoya Peninsula and remote lodges in the heart of the rainforest. Dine everywhere from gourmet restaurants to local sodas. Ascend by rope and pulley into the rainforest canopy, explore caves, surf, kayak, canoe, bungee jump, mountain bike, trek, or just lay back on a beach, relax, and watch the monkeys at play. Internal air flights, bus travel, ferry schedules, what to do, what to avoid. Studying Spanish, volunteer programs, and sustainable tourism. Maps, photos, web sites, useful tips. Humorous, informative, educational, detailed. There's no other guide quite like it!
ISBN 1-893643-55-7 $22.95 list
Special Sale Price: US$20 with media mail shipping. (US$25 with priority mail shipping).
Order with Google Checkout:
Or with Paypal
Order from Powell's Books
>> Photos, illustrations, and maps galore
>> Excellent information on flora, fauna, environment, history, and other topics
>> Useful tips and charts not found elsewhere
>> Free online updates
>> Most extensive internet listings (websites and e-mails) of any book
>> Capsule Spanish vocabulary, glossary, booklist
>> Great for residents and visitors alike!
Visit our myspace page.
Visit our facebook page.
Explore Costa Rica named "Cool Book of the Day"!
View Larger Map